Worshiping Together as a family of God at Trinity.
Sunday worship is at 10:00 AM. We use the Divine Service 1 found in the Lutheran Service Book. On the last Sunday of the month, we have a blended service with contemporary music.
Come as you are; we are a family of God worshiping as one family in the faith of God.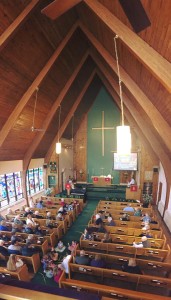 All Sunday services are presented on a projector screen for all those to follow along.
Holy Communion is every week. Please see our beliefs and stance on Holy Communion.
We also provide Live Streaming through our Facebook Page.
Thursday night, family worship is at 6:00 PM.
We gear this service for all families. First, with the basics of Sunday Worship, we sing praises and pray to God. Then, we condense this service into a 30-minute service.
For 30 minutes, we listen to God's word, we sing, we pray, and we fellowship together at the Altar. Our children participate and are active in worship.
Our church supports the interest of learning the basics (Six Chief Parts) of daily Christian living. We recommend this service to you and your family if you are new to the faith. We invite children to start their faith journey with our church family. 3 John 1:4